Open Source Software
Open source software is becoming more and more popular. The ability to create software as a community is one that should be cherished. It's amazing to see how quickly open source software develops. Therefore, I will be keeping track of the best and essential open source software on this page. Keep in mind that open source software is totally free.
For Windows:
Buddi
A personal finance and budgeting program.
ClamWin
A free antivirus for Microsoft Windows 98/Me/2000/XP.
FileZilla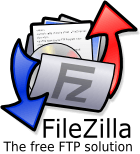 A fast and reliable FTP client and server.
Firefox
An award-winning Web browser from Mozilla.
GnuCash
Personal and small-business financial-accounting software.
NotePad++
A free source code editor (and Notepad replacement).
OpenOffice
A multiplatform and multilingual office suite.
Paint.NET


A free image editing and photo manipulation software.
[Review]
Pidgin

A multi-protocol Instant Messaging client.
Thunderbird

An acclaimed email client from Mozilla.
VLC Media Player
A highly portable multimedia player.
If you don't see something that you think should be on the list, please leave a comment.
Note: If you are a student of the University of Waterloo, you can obtain a copy of Windows XP from MSDN-AA (Microsoft Developer Network Academic Alliance). Windows Vista Business is also available for CD pick up.